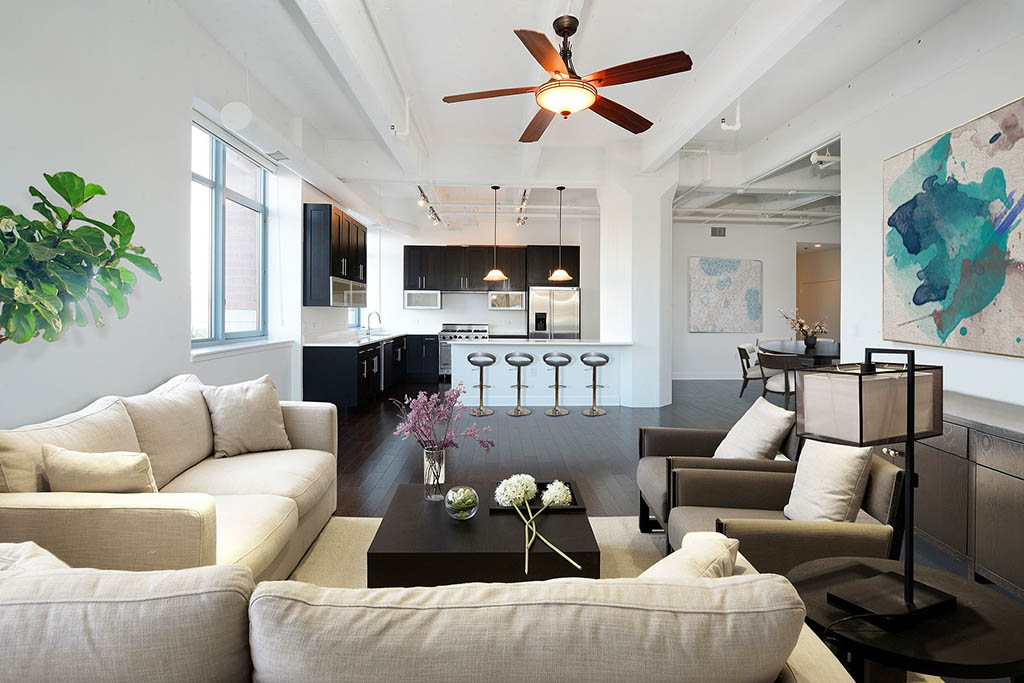 If it's time to sell your home, you want to get the best price possible. The market conditions, neighbourhood and size of your block might not be in your control, but one key aspect is. First impressions. Thinking about how to stage your home for sale can add a healthy amount to the final sale price and also get it sold faster.
In a nutshell, good home staging means your house is not presented exactly how you may want to live in it, but it looks and feels exactly the way that makes buyers want to buy it!
Luckily, it's not rocket science. Here's what to do:
1. Fix the little things
While you may be happy in your humble abode, it's the little things that can miss your attention when it comes to moving on.
We're talking about those little scuff-marks on the wall or that leaking tap that you've learned to live with. They may be the little things, but they can be a big deal when you're trying to make a good impression.
2. Get rid of the clutter
One of the easiest ways to turn off a buyer when they're sussing out your place is to clutter their mind with … your clutter!
Not just that, if every cupboard and storage space is overloaded with your junk, you may create the impression that storage is an issue with your house. So do yourself a favour and contemplate spending a few dollars on a some short term self storage in Melbourne.
3. Highlight the selling points
The basics of your house may have some downsides, but at the very least you need to be highlighting the really good things about living where you live.
So if you have great lounge room windows that really let in that afternoon light and warmth, consider removing the huge drapes that hide them away. If the whopping great counter tops in your kitchen are going to excite a particular buyer, make sure they're not cluttered with appliances and junk that might find a better place for the time being in storage.
4. Prepare the rooms ideally
You shift into a higher price bracket if your house has particular basic features – like a fourth bedroom or a second bathroom.
So if that fourth bedroom is actually your 'spare room' and you've filled it with unused junk like piles and piles of clothes as well as an exercise bike, you really need to consider putting it all in storage instead. Then, think about filling that new space with a bed and a couple of side tables.
Similarly, if your second bathroom is unused and neglected, spruce it up so that it's not obvious that you really can live with just a single bath or toilet.
5. Arrange Your Furniture
It would be best if you consider rearranging your furniture to give the best look to viewers. Create walkable space to ease the movement making the house seem more spacious. If furniture is in the way or not adding to the appeal, refer to step 2!
6. Make the personality 'neutral'
All too often, what turns off a potential buyer is a home decoration 'personality' that doesn't match their own.
That's because everyone has their own taste – and your gaudy colours and brash furnishings could turn off rather than impress the perfect buyer. On the other hand, neutral colours and basic decorations and furniture will appeal to most, so think about getting out that paint brush and sending some of your more unusual furniture to storage. You can even rent furniture for home staging.
7. Consider the lighting
It would be best to avoid darkness filling your house while the buyers familiarise themselves with the home. Consider opening the blinds of the windows to let light fill the rooms. Additionally, you may opt to put more lamps and make sure that the lights are on throughout the walk.
8. Ensure Freshness
One significant way to ensure that bad odours are no more in your house is by a thorough cleaning. Ensure that areas such as the kitchen and bathroom are appealing to the buyers. Empty dustbins and ensure that all corners create an excellent impression to the buyers.
Alternatively, you can put some sweet-scented flowers in different areas of the house. The flowers you choose should be fresh, providing a conducive environment for all.
9. Focus Where it Counts
In every house, buyers focus more on some rooms that interest them. If it's a house they want to live in, lay more emphasis on the table room and also master bedroom. The kitchen is also another area you should utilise more time decorating it. Remember, home staging can be expensive, but if you apply smart tips, you will spend less and achieve more.
Making your house look nice is always on the list of things for a seller to do. But thinking about how to stage your home for sale in the most professional way is actually a big trend that is really converting into the highest prices and fastest sales right now. Can you think of any other simple tips for staging homes? We'd love to hear your thoughts!
Choosing self storage to hide away items and get better price for your home? We are conveniently located in Williamstown for Altona, Newport, Laverton, Yarraville, Kingsville, Footscray, Spotswood, and surrounding western suburbs.